New Dromore Diocesan Website Launched
Welcome to the new website for the Diocese of Dromore. We hope that you will find it more useful, uncluttered and easy to use.
Design Elements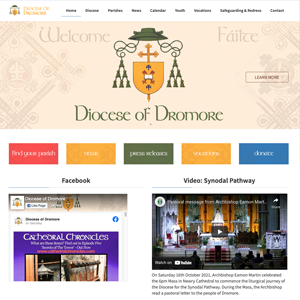 The graphic design theme utilises motifs created by Ashlin and Coleman in the early 1900s for Newry Cathedral. The site will use a clean, uncluttered theme with generous use of white space.
Careful consideration has been given to all content to avoid clutter and repetition and to ensure that visitors can easily find the information they are seeking.
A banner section is used to highlight priority content, such as events and initiatives, liturgical seasons etc.
A responsive theme will be used so that the website is automatically optimised for the device that the visitor is using. E.g. computer, tablet or mobile phone.
The theme will allow for social media integration and for a high degree of customisation.
New features
Social Media Integration
A widget on the homepage will provide a live feed from the Dromore Diocesan Facebook page. This allows visitors to view Facebook content directly on the diocesan site without needing to have a Facebook account.
Enhanced information for parishes
The list of parishes has been enhanced to provide direct links to parish websites and/or social media profiles.
By linking directly to parish websites, we can make sure that information such as Mass times and contacts are up to date.
Resources for parishes
This new section will be a central location to host useful resources for parishes.
Examples of content might include materials such as posters, social media resources, policy documents and liturgical resources such as wedding or funeral booklet templates etc.
Visitors will be able to download these documents directly from the page.
Cloud-based calendar
A cloud-based calendar service (Google Calendar) will be used to provide a live calendar of events for the diocese. Visitors to the site can subscribe so that events are automatically added to the calendar on their own device. Parishes are encouraged to submit details of events to the diocesan office for inclusion in the calendar.